Nov 5, 2019
Three Takeaways from the Modernization Committee's Hearing on the House Calendar and Schedule
There is no doubt that Congress, as it stands, has a lot of room for improvement. Reforming the House calendar and schedule is perhaps one of the best ways to start to make a meaningful change in the right direction. Although every member of Congress has different situations and expectations on them, they share a common desire for more predictability and efficiency to increase their productivity and ability to be a voice for their constituents.
The Bipartisan Policy Center recently found that on just one morning, 131 House members had a total of 158 scheduling conflicts among the  19 committees or subcommittees on which they serve. The consequences? Our elected officials can't spend meaningful—or sometimes any—focused time weighing in on critical issues at committee hearings and meetings. As things stand, it feels like the only way to navigate the competing priorities is to clone members. Since that isn't a feasible option, the Select Committee on the Modernization of Congress held a hearing to explore ways to more realistically remedy the congressional schedule.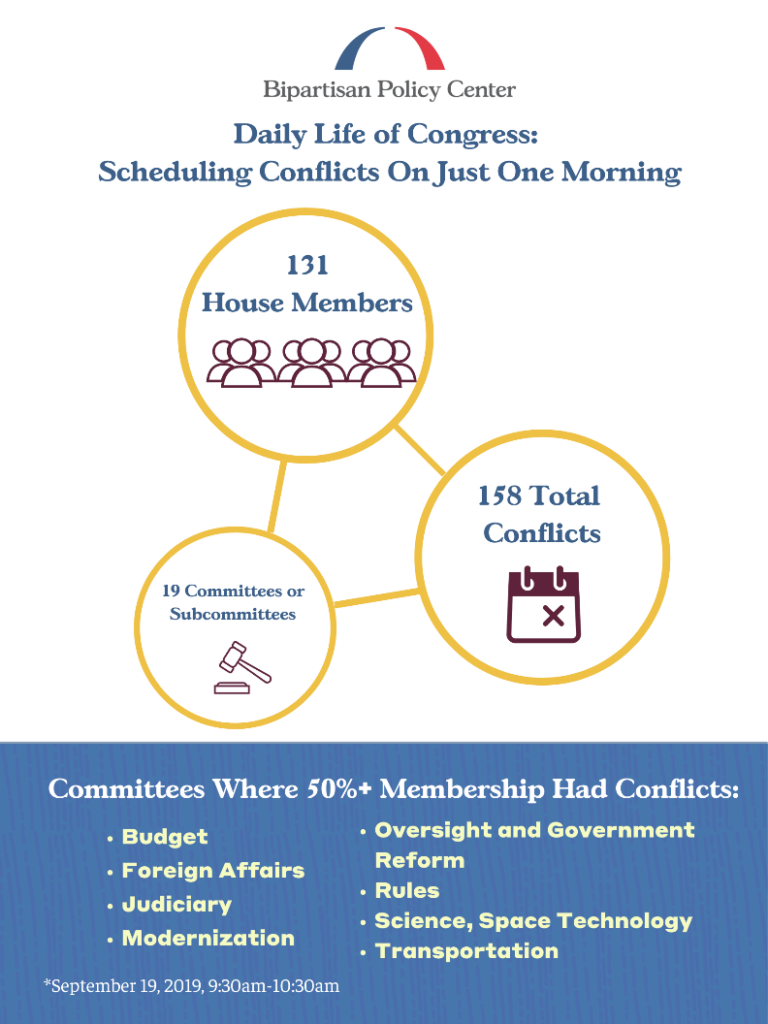 Four witnesses testified: Ida Brudnick from the Congressional Research Service; Charles W. Johnson, the former Parliamentarian of the House of Representatives; Kyle Nevins, former Deputy Chief of Staff for Majority Leader Eric Cantor; and Susan Clarke Schaar, Clerk of the Virginia General Assembly's Senate. Here are three takeaways on how Congress can reform its messy and inefficient calendar and scheduling policies:
Integrate technology into scheduling policies.
Innovative developments such as electronic voting or referrals in committees help members manage their time more efficiently. Furthermore, technology can be utilized to minimize and document members' overlapping obligations: Tracking these overlapping obligations and creating a real-time obligation map would facilitate a more productive change of pace in Congress.
Minimize travel time.
Many members spend an extensive number of hours traveling back and forth from their districts, to the point where the strain of travel interferes with their ability to productively engage with their constituents while also fulfilling their legislative responsibilities. If different weekly schedules are implemented, it would allow for more consistent meeting times. One example is longer (5-day) workweeks in Washington, followed by a full week district work period. Increasing the possibility of members staying in Washington over weekends gives them an opportunity to get to know each other, build trust, and ultimately promote collaboration across the aisle.
Create predictability and ask members and staff for input.
Congress must set a calendar and live by it, regardless of the workflow of that particular week. Votes can be confined to specific hours, and a backstop can be enforced at the end of each workweek where no votes can be set after 3:00 pm. Although Congress currently utilizes some of these practices, there is a lot of room for expansion. This sense of predictability can be reinforced by democratizing calendar input for members and staff to address committee overlap; after all, they know their own schedules better than anyone.
Although scheduling and calendar issues may seem minor and insignificant in the grand scheme of things, working to change the process will certainly pay dividends for Congress, constituents, and the nation.
Miss the hearing? Catch it here!
---